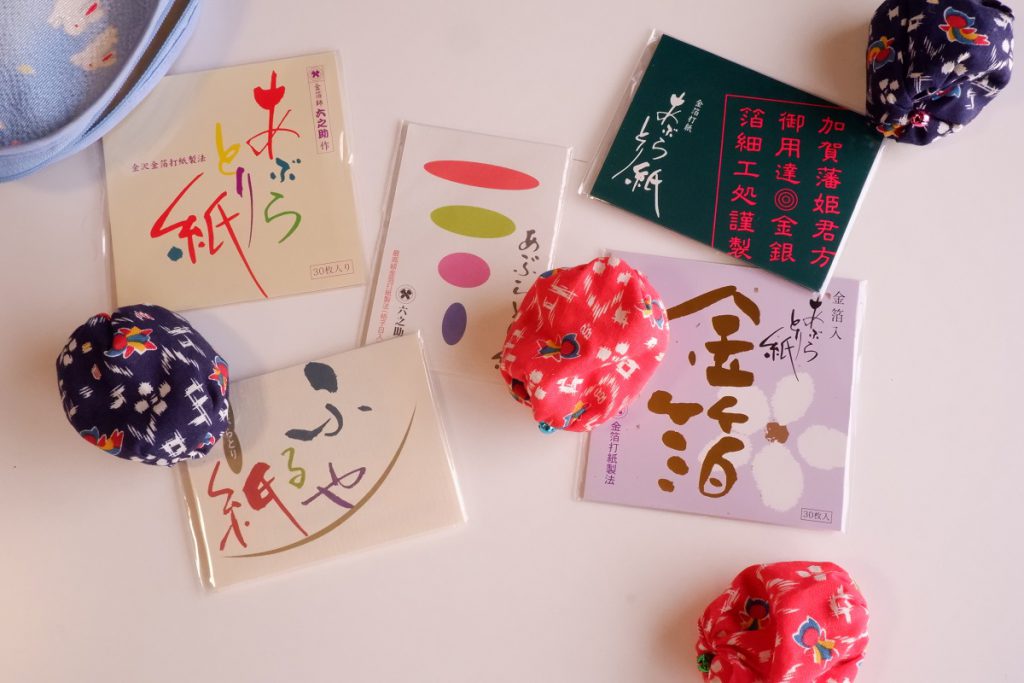 Originally, oil blotting paper was born as a by-product of the manufacture of gold leaf.
In other words, Kanazawa, the town of gold leaf, is also the town of oil blotting paper.
We approached the charm of Kanazawa's oil blotting paper, which has been loved for a long time.
◆ Types of blotter paper
There are two main types of oil blotting paper available at Gold Leaf Shop Sakuda.
・ Oil blotting paper made by applying the technology of making gold leaf
・ Gold leaf paper used to actually on the manufacturing process of gold leaf.
The latter is further divided into two types: foil beating paper (Furuya paper) used to beat gold leaf and clear beating paper used to beat gold leaf, which is a thicker stage than gold leaf.
There is no doubt that all oil blotting paper absorbs sebum, but Furuya paper, which is a foil-beating paper, is created by its special manufacturing method. It is used by many users to the present.
◆ Until the paper (foil beating) is made
Foiled paper is made from handmade Japanese paper.
However, as it is, gold cannot be stretched to a thickness of 1 / 10,000 mm.
First, soak Japanese paper called ganpishi in lye of straw ash, egg white, and persimmon astringent, squeeze it with a foil-making machine, pickle it, squeeze it, and repeat it for about 3 months. Finally, the paper is finished with the strength and smoothness to beat gold leaf.
It is said that the workmanship (finish status) of this foil beating paper affects the quality of gold leaf, so it is important in making gold leaf. Leaf-making craftsmen are famous for punching with a machine, but in reality, this work called paper preparation occupies most of the work.
However, the foil beating paper, which was made with this great effort, cannot continue to beat the foil forever, and if you beat the foil about 50 to 60 times, the gold leaf will not spread well and it will end its role.
Foil beating paper that has finished this role is called Furuya paper, and the fine holes created in the work process absorb only excess sebum from the skin to prevent makeup from coming off, so oil blotting paper has long been very useful among geisha and maiko.
◆ Various uses Oil blotting paper
I think many people don't use oil blotting paper too much.
In fact, oil blotting paper can be used not only for removing sebum from the skin but also for various purposes.
Glass surfaces of glasses and watches, screen wipes for smartphones and PCs, lens wipes for mirrors and cameras, etc.
Oil blotting paper does not produce fibers and is clean by throwing it away after use.
It is also recommended for holding down lipstick.
It seems that oil blotting paper, which absorbs sebum moderately, is easier to use because it may come off too much if it is a tissue.
Recently, it is also recommended for mask life.
Please refresh with oil blotting paper even if the mask is stuffy.
Oil blotting paper that allows you to easily experience traditional techniques. Please experience the splendor.